155 – Screw-in cable sensor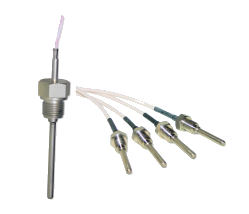 Temperature sensor in standard cable sensor version with process connection. Version, dimensions and process connection according to customer specifications to be determined; ask about the unlimited model possibilities!
The 155 series of screw-in sensors are insert probes with a fixed mounted connection cable and a process connection to be determined according to customer specifications, available in various standard diameters and types of cables. As measurement system standard PT100 and various Thermocouples are possible, with also more specific recorders in PT200, PT500, PT1000, Ni100 and Ni1000. The cable sensors are suitable for all sorts of application in for example industry, greenhouses, ovens, climate control and machine construction. Connection cable possible in PVC, PUR, Silicon, PTFE or Glass silk for temperatures up to 600 °C. As option an anti-kink coil can be mounted on the cable outlet.