162 – Thermocouple sensor with connector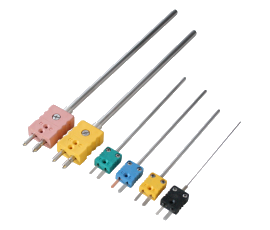 Thermocouple sensor with connector.
Length, diameter, measurement system and connector according to customer specification.
The series 162 temperature sensors provides a tailored solution for easy measuring and recording temperatures. The feeler tube is made of SS316 or mineral isolated casing material and available in a variety of diameters. At the end of the tube a thermocouple male connector in miniature or standard version is mounted.
The stainless steel probe is strong and dimensionally stable and suitable for frequent exchanges in the process. The thermocouple is standard isolated, but can also be welded (grounded) in this version, so a high-speed measurement can be carried out.
The sheath material is manufactured of flexible stainless steel or Inconel600. The material is permanently flexible and can be used c.q. construed in all forms. The temperature resistance is very high and the measurements are extremely exact.