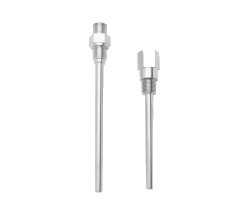 Firmly mounted protection sleeves for installing and changing sensors during the process.
Thermowells are protection sleeves for the installation and changing of sensors during the operating process. The temperature sensor is placed within the thermowell which is mounted at the measurement location. When the sensor is removed the thermowell sleeve ensures the process is permanently sealed. In addition, the thermowell provides an extra protection of the temperature sensor in the event of aggressive or strongly corrosive media.
This series is ideal in combination with the sensors from the 150, 170 and 700 series. The precision sleeve of stainless steel-316 is welded on an upper section with screw thread in various internal and external thread versions. Made from stainless steel, and available in many dimensions, process connections, sizes and wall thicknesses. Also available as "welded" model, or made from turning a solid 'bar-stock' material.