Eurotherm 2200 series – Procescontrollers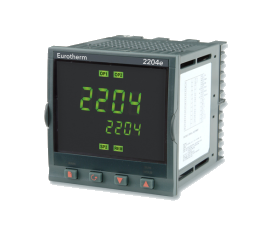 High-end  Eurotherm procescontroller with unique auto-tune function for the most optimal control in just a few steps. Suitable for panel installation, available in many customer-specific measurement ranges.
The controller of the serie 2200 is a versatile, very stable temperature and process controller with auto tuning.
The controller is available in the following dimensions:
1/6DIN (48x48mm)
1/8DIN (48x96mm)
1/4DIN (96x96mm)
The controller has a modular hardware construction with the option: 1 control output, 2 alarm relays and a communication module. The hardware is configurable for heating, cooling or alarm.
The modular heating and cooling outputs can optionally be equipped with 1 or 2 alarm relay outputs. The 2208 and 2204 have 2 digital inputs for selecting auto / manual control, standby mode, 2nd setpoint or alarm confirmation. The load current can be displayed and errors or shortcuts can be detected.