PI50 – Programmable indicator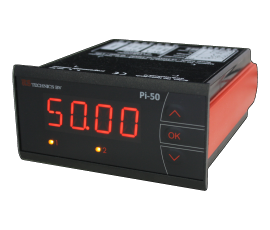 Digital indicator with 2 or 4 programmable alarm contacts for display, monitoring and regulation of temperature and process values. Panel installation, available in many standard or customer-specific measurement ranges.
The indicator of the serie PI50 has a 4-digit 14-segment LED display, which guaranteed a good vision. It is very easy to program the indicator with the front function keys and the clearly menu stucture. Installation goes very quickly, because each relais can be activated / deactivated independently. Sensor failures are directly displayed on the display or declared by a relais. The indicator is safely secured: the input, output and the powersupply are isolated (to a max of 2.3kVAC). The housing is in the standard DIN NG96x48mm size.