Mechanical stainless steel thermometers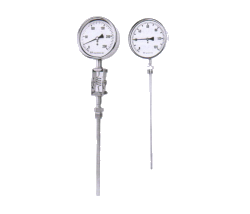 Mechanical stainless steel Thermometers in various sizes, measurement ranges and various process connections available.
RS Technics supplies a complete package of mechanical stainless steel thermometers, available in three different sizes of housing and with all available insert lengths and process connections. All standard measurement ranges are available. In addition an Any-Angle model is available whereby you can set the reading angle yourself. As option the meters can be fitted with Min/Max-switch contacts and even a digital read out.