700 series – Robust full stainless steel temperature sensor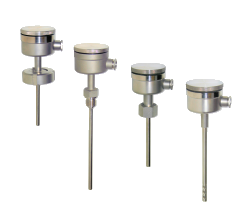 Robust and 100% watertight temperature sensor, fully made from stainless steel-316 with a screw cap, supplied made to measure with swivel, nipple or dairy connection process connection or as air temperature probe.
The 700 series comes with a connection head turned from solid material and has a screw cap with O-ring seal. This sensor is characterized by its robustness and 100% water tightness. IP68 has a process connection according to customer specifications and can be fitted with a 2-wire transmitter type TRM33A. The sensor can come with a NW25 and NW50 process connection, better known as a 'dairy', 'Sanitary' or 'Tri-clamp' connection. The 700 series is also available in a vibration-resistant version "700-S" with Lloyds approval, specially suitable for extreme stresses such as ship diesel engines and heavy industry. The "707" model is specifically intended for air temperature measurements in for example ovens or air ducts. This is characterized by a cut away measurement point and is available with smooth insert or with an internal/external thread connection in a robust design.