TM16 – Temperature Monitor for 16 channels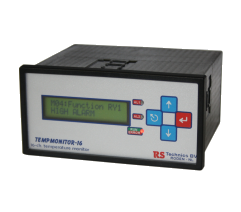 The TempMonitor-16 is the solution for displaying and monitoring a maximum of 16 measurement signals on 1 central display unit. By means of the push buttons the desired measurement value can be shown on the display, and the settings for the monitoring contact can be changed.
The TempMonitor-16 is a compact monitor unit specially developed for simultaneously monitoring a maximum of 16 measurement signals. The TempMonitor-16 has two alarm contacts. The alarm function can be set separately for each measurement channel. By means of the LCD display and the push buttons on the front the measurement value of each channel can be displayed. If an alarm is given the measurement value of the channel in question is automatically displayed and a notification follows with the Relay contact and indication via LED and internal acoustic Buzzer. Fail-safe alarm contact with detection of sensor faults. This unit is intended for panel installation.
Programmable 16-channel temperature monitor in housing for panel installation NG144x72mm. LCD-display 2×16 characters with background lighting. 2 Alarm relay max. 3 Amp @ 250 VAC. All connections with screw/insert connectors. Supplied including connection and mounting materials.