TRM4100 Programmable transmitter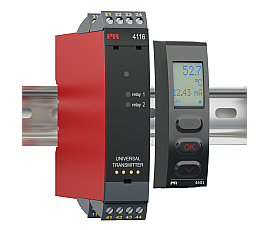 Programmable transmitter for the conversion of PT100, TC, V, mA, R or potentiometer inputs to current, voltage or 2x relays out. Suitable for mounting on a DIN-rail.
The transmitter of the series TRM4100 is easily to configure and is provided with a dismountable front display. After installation the display can serve to view the process values and it gives you the entrance to sophisticated alarm settings, 2 point process calibration and sensor failures. The display has a "memory" function to set easily equal multiple transmitters. There is a fourfold galvanic separation (2.3kVAC) between the power, the ralais and the analog in- and output. The transmitters are suitable for SIL1/SIL2 applications. Suitable for mounting on a  DIN-rail in for example enclosures.