161-165 Exhaust gas sensor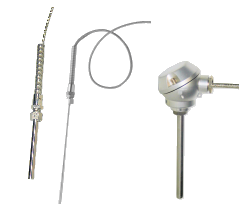 Temperature sensor for measuring in exhaust gas channels and turbines, resistant to high temperatures.
The 161/165 series of thermocouple sensors have been specially developed for measuring the temperature in exhaust gas channels and turbines. A robust cable protector spring has been mounted on the top. As standard the sensor is fitted with a 2-metre compensation cable with a woven metal protection. Other cable lengths are available upon request. Model '161' comes with a cable with a right angle cable exit, whilst model '165' has a straight cable exit. These sensors are normally assembled with a clamp connection in a protective housing.